String Quartet
Del Sol Quartet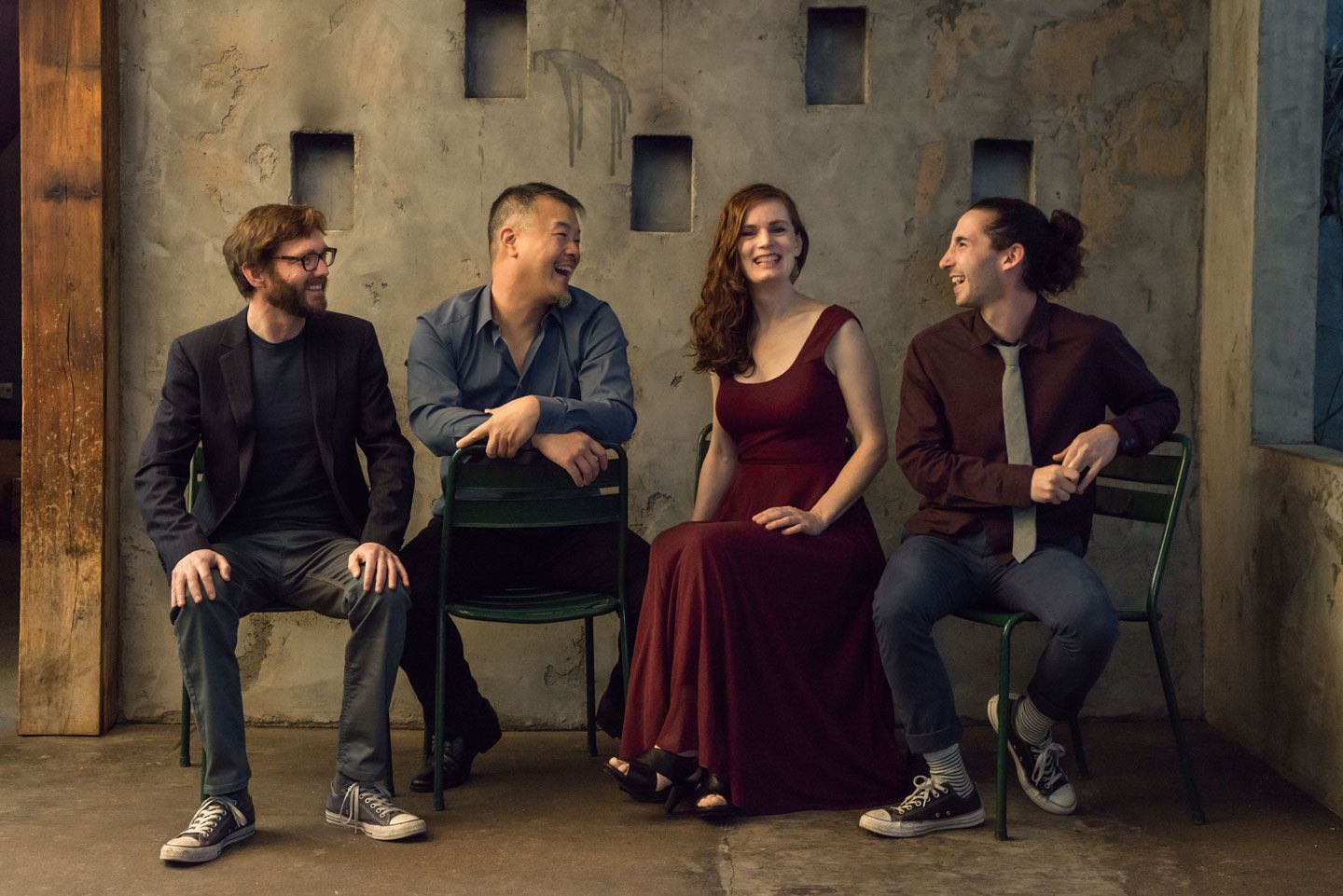 Biography
Fascinated by the feedback loop between social change, technology, and artistic innovation, the San Francisco-based Del Sol Quartet is a leading force in 21st-century chamber music – whether introducing Ben Johnston's microtonal Americana at the Library of Congress, taking Aeryn Santillan's gun-violence memorial to the streets of the Mission District, exploring Andean soundscapes with Gabriela Lena Frank and traditional musicians, or collaborating with Huang Ruo and the anonymous poets who carved their words into the walls of the Angel Island Immigration Station during the years of the Chinese Exclusion Act. The current Del Sol lineup, marked by the arrival of violinist Sam Weiser alongside mainstays Charlton Lee, Kathryn Bates, and Ben Kreith, brings a fresh energy, freedom, and precision to the group.
Recognized as a "vigorous champion of living composers", Del Sol has premiered hundreds of works by composers including Terry Riley, Gabriela Lena Frank, Frederic Rzewski, Ben Johnston, Chinary Ung, Mason Bates, Pamela Z, Tania León, Erberk Eryilmaz, Theresa Wong, Reza Vali, and Peter Sculthorpe.
Many of these works are included on Del Sol's nine critically-acclaimed albums. PopMatters praised Del Sol's "unfettered mastery" on Terry Riley's Dark Queen Mantra (2017, Sono Luminus). Scrapyard Exotica (2015) elicited this rave in the New York Times. "I could be wrong, but I'm guessing it's been a while since you've rocked out to a string quartet recording. See if your foot can stay still once you put on this funky disc of rhythmically infectious (if often warped) music played by the adventurous Del Sol String Quartet." Other Del Sol recordings have explored the "hypnotic sound world" of Peter Sculthorpe (Sculthorpe: The Complete String Quartets with Didjeridu); musical languages from Peru, Turkey, Spain, Iran and Uzbekistan (Zia); composers from the Pacific Rim (Ring of Fire); and historical works by George Antheil, Marc Blitzstein and Robert Erickson.
The Quartet has performed at prestigious venues around the world, including the Kennedy Center, Library of Congress, Smithsonian Museum, National Gallery of Art, Symphony Space, Miller Theater; Other Minds Festival, Cabrillo Festival of Contemporary Music, Clefworks Festival, Hobby Center for the Performing Arts, Santa Fe Opera, Chautauqua Institution, Candlelight Concerts, University of Vermont Lane Series, Hopkins Center for the Arts, Davos and Hirzenberg Music Festivals in Switzerland; and the Chengdu Festival of Contemporary Music in China.
With its deep commitment to education, Del Sol has reached thousands of K-12 students through inventive school performances, workshops, coaching and residencies. The Quartet members also have worked closely with student composers, musicians and faculty artists at universities across the country, including Dartmouth, MIT, Brandeis, Northeastern, Georgetown, Carnegie Mellon, Vanderbilt University of New Mexico, University of California at Berkeley, San Diego, and Santa Cruz, Chapman, Augustana, Illinois State, the Peabody Institute, the Manhattan School of Music and San Francisco Conservatory of Music. delsolquartet.com