The Future is Hybrid!
ImmerSphere is an artist-driven, woman-led software company expanding the possibilities for music performance.
We offer a groundbreaking augmented reality app – intuitive for everyone regardless of technology background – through which users can experience live videos of music performance within any 360-degree environment. Spheres unfold around the user, inviting them to experience magnificent concert halls, stunning natural vistas, and new worlds entirely. Exhilarating and magical, audience members teleport between spheres and experience acoustic environments to match the worlds they enter.
ImmerSphere is currently available on smartphones and tablets, and we're positioned to expand to AR glasses once those hit the wider market.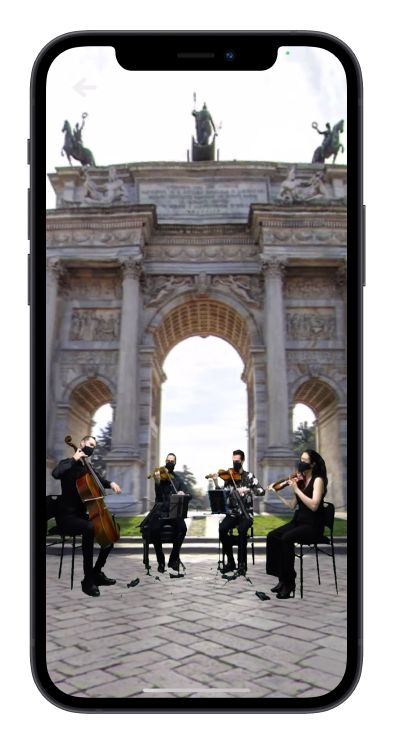 Built for Creators & Curators
ImmerSphere is staffed by artists and performers that have decades of experience in the music industry. We've built ImmerSphere to be responsive to the needs of artists, presenters, and audiences, and modeled the business structure to keep revenue circulating in the arts sector.
Presenters
Get ahead of the technology curve by hosting a series of augmented reality performances alongside your live concert series. Integrate virtual and live experiences. Expand your audience both locally and globally, and tap into each artist's full network of fans.
Artists
Curate performance experiences in augmented and mixed-reality formats. The ImmerSphere technology empowers performers, composers, and visual artists with new tools for creation.
Audience Members
Enjoy music performance in a fun, exhilarating new format, participate in your arts community in a new way, and support the innovative musicians whose work you love.
Celebrated as "radical digital defiance" by Ben Dietschi of the renowned DeVos Institute for Artist Management, ImmerSphere "shatters limitation[s]…it's pushing the limits of available tech to reconstruct a fuller spectrum of audience experiences."
How it Works
Introduce augmented and mixed-reality experiences to your audiences at your own pace.
Marketing for a Live Event
Test the waters by including an AR experience in your marketing brochure as an advertisement for an upcoming live performance.
Scavenger Hunt
Place augmented reality experiences around your community as a Performance Walk, accessible to anyone by smartphone or tablet. Track the levels of new engagement.
Augmented Reality Series
Host an AR performance series through the ImmerSphere platform. Present EPEs ("Exclusive Performance Experiences") designed by the ImmerSphere roster artists, or nominate an artist beloved to the series and community to create new work for the platform.
Mixed-Reality Performance
Host side-by-side performances with your favorite artists in which they offer a live performance, an AR performance through the ImmerSphere platform, and even an artist-led mixed-reality performance experience, guiding your gathered audience members through these new technologies.
Commission New Works
Contribute to the 21st-century's body of artistic work by commissioning performers, composers, and visual artists to create works for the ImmerSphere platform. Contact us to learn more about the ImmerSphere commissioning consortia underway, and offer world premieres, artistic empowerment, and visionary experience formats.